Sage Mint Deodorant
refreshing, long-lasting control
A roll-on with no aluminium salts: Dr. Hauschka Sage Mint Deodorant
A deodorant you can rely on: Our non-oily Sage Mint Deodorant helps prevent the formation of odours without constricting your pores or staining your clothes. This Dr. Hauschka roll-on deodorant works entirely without aluminium salts. Its natural herbal scent accompanies you subtly throughout the day.


Skin condition / Dr. Hauschka Sage Mint Deodorant
For all skin conditions
Find out more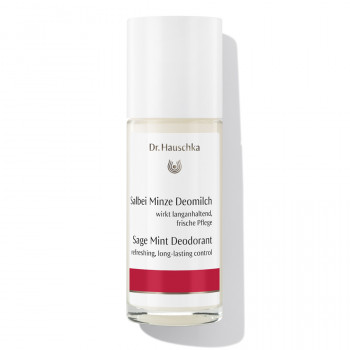 Dr. Hauschka Sage Mint Deodorant
including VAT.
Delivery time appr. 1-3 working days
Content 50 ml (£26.00 / 100 ml)
Retailer search
Dr. Hauschka Product Consultancy
For questions regarding Dr. Hauschka Skin Care products and their usage, please contact our dedicated customer service team.
Phone: 0800 0556604
Email: info@wala.co.uk
Sage Mint Deodorant
Lovely fresh and light deodorant full of good ingredients.
Smells good and last well for a natural deodorant
The smell is divine, and I am happy with it in this hot summer! It does not last as long as some of the chemical maces, but that's fine for me (and the people around me I guess). I recommend this product.
Fresh and long lasting
Excellent deodorant- long lasting and fresh
Sage Mint Deodorant.
Works a treat! Sage Mint deodorant is always fresh and dry on the skin. It is very natural, has a pleasant aroma, and you forget that you are wearing it.
It works
No more soreness from conventional deodorants and love the minty fragrance
Share your product review or your experiences with us.
Dr. Hauschka team will check your comment before it is published.