Deodorant
Subtle companions
When situations make you break out in a sweat, it's good to have a subtle and reliable companion by your side. The Dr. Hauschka deodorants are happy to take on this role – without irritating the skin or staining your clothes.
No results were found for the filter!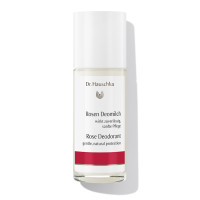 Bundle offer Available
Rose Deodorant
roll-on deodorant with no aluminium salts
also suitable for stress-induced perspiration
does not stain clothing
for normal to sensitive skin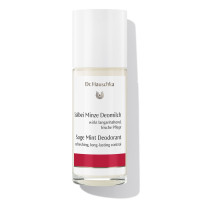 Sage Mint Deodorant
roll-on deodorant with no aluminium salts
very gentle on the skin
does not stain clothing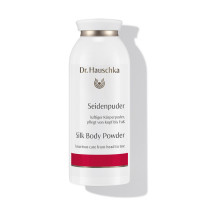 Silk Body Powder
talc-free body powder
lightly deodorising
soothes itching
highly versatile
Deodorants with no aluminium salts
Dr. Hauschka deodorants use carefully aligned natural ingredients and offer gentle, long-lasting protection. We consciously avoid the use of pore-constricting aluminium salts and achieve the deodorising yet nourishing effect of our deodorants through ingredients such as valuable vegetable oils and medicinal plant extracts, for example lady's mantle and witch hazel. The good skin compatibility of both of the Dr. Hauschka deodorants has been confirmed by user tests.
Also deodorising: foot cream and body powder
Dr. Hauschka Deodorising Foot Cream has been specially designed for sweaty feet. It absorbs moisture, refreshes the feet and protects the skin against rubbing and pressure sores. You will also appreciate our deodorant for the feet if you regularly wear trainers, work boots or hiking boots. If you are prone to highly sensitive skin, Dr. Hauschka Silk Body Powder is the deodorant for you. The delicate composition of pure silk and extracts of sage, gentian and oak bark offers reliable protection, stabilises the skin flora and gently deodorises.
Our deodorants take their scent from natural oils
Do you prefer floral elegance or herbal freshness? Natural essential oils from rose petals in Dr. Hauschka Rose Deodorant, sage, mint or rosemary in Sage Mint Deodorant determine the scent of the Dr. Hauschka deodorants and add the finishing touches to our protective and nourishing compositions. An overview of all ingredients can be found in the detailed product description for your deodorant.
Perspiration is important – and so too is a good deodorant
The body perspires in order to regulate its temperature, expel metabolic products and supplement the skin's natural protective layer. Perspiration is so important that our body has two to three million sweat glands. Sweat itself is actually odourless. Its typical odour only arises when it is broken down by bacteria on the skin. This is particularly the case in the armpits, where the number of sweat glands is especially high. As our armpit skin is extremely sensitive, a good deodorant should not only be reliable, but also be kind to the skin.