Eyeshadow
What colour are your eyes today?
Eyes needn't have just one colour: our eyeshadows allow you to play with different shades – with matte or shimmer finishes.
No results were found for the filter!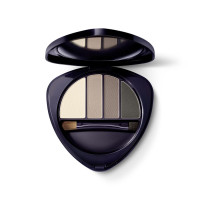 Eye & Brow Palette
one palette with many uses
includes an applicator for eyelids and brows
contains four velvety matte shades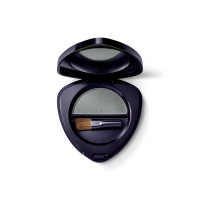 Eyeshadow
glossy eyeshadows
create striking accents
contain mineral pigments
available in three intense colours
Velvety matte or shimmering eyeshadow?
Take your pick: our Eye & Brow Palette contains four carefully curated matte tones and endless shading possibilities. Whether you fancy subtle lids or a dramatic smoky eye, we've got you covered. And for an intense, shimmery finish, our mono Eyeshadows are just the thing. They are the showstoppers of your eye make-up collection.
What's your eyeshadow mood today? Blue or nude?
Blue eyeshadow is a classic that we at Dr. Hauschka simply had to include. Alongside a luminous aquamarine, our eye make-up includes a very elegant green, and of course, our golden topaz. The Eye & Brow Palette offers a further selection of warm, earthy tones, including a classic shade for a nude eyeshadow look. All shades boost the radiance of your eyes with natural mineral pigments.
Dr. Hauschka natural skin care: velvety, silky eyeshadows.
Besides mineral colour pigments, all Dr. Hauschka Eyeshadows contain medicinal plant extracts that we produce ourselves. We also use ingredients like black tea and delicate silk powder in our eye make-up . This makes our eyeshadow particularly gentle and caring on the sensitive eye area – in a way that only natural skin care can be.
Eyeshadow application made easy.
The best way to apply eyeshadow is with a brush – like our Eyeshadow Blender Brush, which you can find under make-up accessories. When you're out and about, you can use our small brush, which is included with every Dr. Hauschka Eyeshadow. Our Eye & Brow Palette even comes with a double-ended applicator. Plus, all Dr. Hauschka eyeshadows include a mirror – so you have everything you need for application on the go.