Rose Deodorant
gentle, natural protection
A roll-on with no aluminium salts: Dr. Hauschka Rose Deodorant
Our Rose Deodorant provides reliable protection while respecting the skin's natural flora. The low-alcohol formulation of this roll-on deodorant works entirely without aluminium salts. It helps prevent the formation of odours without constricting your pores or staining your clothes. Dr. Hauschka Rose Deodorant accompanies you throughout the day with its fresh, floral scent.


Skin condition / Dr. Hauschka Rose Deodorant
For normal to sensitive skin
Find out more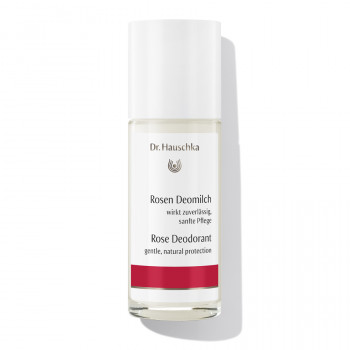 Dr. Hauschka Rose Deodorant
including VAT.
Delivery time appr. 1-3 working days
Content 50 ml (£26.00 / 100 ml)
Retailer search
Dr. Hauschka Product Consultancy
For questions regarding Dr. Hauschka Skin Care products and their usage, please contact our dedicated customer service team.
Phone: 0800 0556604
Email: info@wala.co.uk
Love it
Keeps me smelling fresh for hours. Nice, creamy texture, no nasty ingredients, smooth application. Everything I want from a deodorant!
Gentle floral scent
Gentle fragrance of rose. Gives a good protection, overall a good product
To roll or to spray
I have this mostly for traveling but do love the rose fragrance and would love a spray one if its ever made
Gentle but strong smell
Gentle on my sensitive skin but very strong smell
Delicate Rose
Looked for a deodorant that was natural and suitable for sensitive skin and this seems to fit the bill. Not too heavily perfumed and has not caused any irritation so far.
So special
Elegant and safe yet efficient even in harsh sun as tried in Australia.
Love it
Love it. I have a very sensitive skin, most deodorants and antiperspirants make my skin itchy. This doesn't, it's very silky smooth, and very comforting on my skin. Will be a regular purchase from now on.
Lovely deodorant
Love this product, wear it every day!
Share your product review or your experiences with us.
Dr. Hauschka team will check your comment before it is published.