Rose Deodorant
gentle, natural protection
A roll-on with no aluminium salts: Dr. Hauschka Rose Deodorant
Our Rose Deodorant provides reliable protection while respecting the skin's natural flora. The low-alcohol formulation of this roll-on deodorant works entirely without aluminium salts. It helps prevent the formation of odours without constricting your pores or staining your clothes. Dr. Hauschka Rose Deodorant accompanies you throughout the day with its fresh, floral scent.


Skin condition / Dr. Hauschka Rose Deodorant
For normal to sensitive skin
Find out more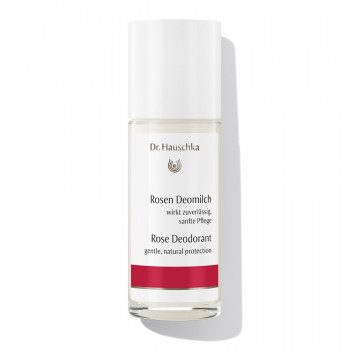 Bundle offer Available
Dr. Hauschka Rose Deodorant
including VAT.
Delivery time appr. 1-3 working days
Content 50 ml (£28.00 * / 100 ml)
Retailer search
No bundles available for the selected variant. Please select another variant for bundle offers.
For questions regarding Dr. Hauschka Skin Care products and their usage, please contact our dedicated customer service team.
Phone: 0800 0556604
Email: info@wala.co.uk