Conditioner
promotes silkiness and shine without weighing down the hair
A silicone-free conditioner: Dr. Hauschka Conditioner.
After washing, your hair is ready for nourishing substances that protect it, promoting silkiness and shine. Dr. Hauschka Silicone-free Conditioner takes care of this step: it combines high-quality plant oils with natural proteins and regenerative medicinal plant extracts. Added to these is apple cider vinegar, to get rid of residual limescale and smooth the surface of your hair, giving it shine. There is also a hint of these nourishing aspects in the scent of the conditioner, which is infused with vanilla, coconut and white blossom. Our silicone-free conditioner is suitable for all hair types, especially long, damaged, dry or dull hair and for split ends.


Dr. Hauschka Conditioner is a further development of Dr. Hauschka Nourishing Hair Conditioner. Whilst nothing has changed in terms of the choice of tried-and-tested medicinal plants, chickpea extract and coconut oil now enrich the formula. And the new tube gains points with its high proportion of recycled material.
Find out more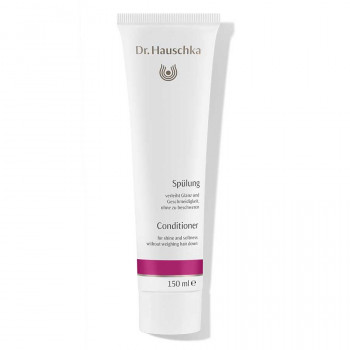 Bundle Offer Available
Dr. Hauschka Conditioner
including VAT.
Delivery time appr. 1-3 working days
Content 150 ml (£13.00 * / 100 ml)
Retailer search
No bundles available for the selected variant. Please select another variant for bundle offers.
For questions regarding Dr. Hauschka Skin Care products and their usage, please contact our dedicated customer service team.
Phone: 0800 0556604
Email: info@wala.co.uk