Quince Day Cream with Facial Toner 10ml
refreshes and protects
Refreshingly simple: Dr. Hauschka Quince Day Cream with Facial Toner 10ml
Protection and moisture – this is all normal skin needs, so this is all our Quince Day Cream provides. The formulation contains quince seeds that regulate moisture and protective quince wax for uncomplicated care: Quince Day Cream glides on evenly, absorbs quickly, and has a refreshing fragrance that lasts throughout the day.
This is why Quince Day Cream is one of our most popular skin care products among men. It is also suitable as a base for make-up.
Daily fortification: Dr. Hauschka Facial Toner.
Our Facial Toner gives your skin bursts of strengthening impulses – in the morning and evening after cleansing, and whenever you like in between. The fine mist contains an unmistakable medicinal plant composition that fortifies and refreshes your complexion. Dr. Hauschka Facial Toner is also suitable for use over make-up and as an invigorating aftershave for men.
If your skin condition changes and your skin becomes prone to impurities, you can switch to our Clarifying Toner.
Skin condition:
This product pairing is perfect for normal skin
Find out more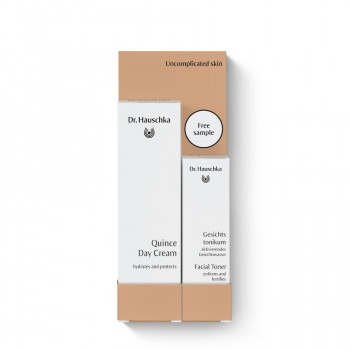 FREE 30ml Gift
Dr. Hauschka Quince Day Cream with Facial Toner 10ml
including VAT.
Delivery time appr. 1-3 working days
Content 30 ml (£86.67 * / 100 ml)
Retailer search
No bundles available for the selected variant. Please select another variant for bundle offers.
For questions regarding Dr. Hauschka Skin Care products and their usage, please contact our dedicated customer service team.
Phone: 0800 0556604
Email: info@wala.co.uk